1/6

Portlands/Monument
The Port Lands occupy a 1,000-acre, 100-year old shipping and industrial landfill over the former Don River delta and marshlands, to the Southeast of old Toronto. Formed throughout the 20th Century in different periods of industrial and infrastructural development, these engineered lands frame Toronto's Inner and Outer Harbours, a significant, part-accessible length of the Metropolitan coastline and an artificial headland extending into the Toronto Islands. They are publicly-owned and –regulated, subject to major speculation, investment and redevelopment plans.

The Port Lands form a block as wide as Manhattan and as long as the Champs Elysées, roughly the same size as central Venice. Formed and reformed by changing frameworks of land-management and –ownership, they are a patchwork and aggregate of post-urban structures, landscapes and ecologies: industrial buildings and channels, post-industrial remains, reclaimed wetlands, beaches and public spaces, fenced port, shipping, logistics and studio lots, roads, railway lines, paths and bridges, and multiple contaminated strata of land, water and sediment, held in place by the gridiron plan and at least half a million cubic metres of concrete. Their networks are transport lines and zones spaced at an infrastructural scale; and major waste, water and power lines running at a regional scale. These networks are punctuated by a series of nodes: industrial landmarks built at a monumental scale.

The landmarks of the Port Lands are fragmented and inaccessible. They give, due to the flat landfill and their seclusion, few vantage points toward each other or toward Downtown Toronto. They are hard to visualize or imagine as situated urban objects, and yet they are very much there: iconic, broadcast into the public consciousness as tremendous buildings and cavernous interiors via a series of films, stories and festivals. They are post-urban, mediated, infrastructural behemoths halfway between decommission and catastrophe, monuments for the screen but not (yet) for the city.

The Hearn Generating Power Station is the Port Lands' major landmark. Its scale, contamination and state of disrepair –like many Crises that lead to expropriations of the Commons– played a role in its recent change of ownership. Sold by a public utility company to a film studio, inaccessible due to liability, the Hearn is as wide as the Great Pyramid of Giza, as long as St. Peter's Square and as massive as the Acropolis Hill.

The Port Lands are a landform blocking flows and erasing histories, a coastline rebuilt over layers of sedimented pollution and turned into infrastructure. The Hearn is a dislocated icon, an island on the island. The building broadcasts scenes and stories of the infrastructural and virtual sublime against the optimized future city visions, the fluid zones and indeterminate coastal landscapes of Lake Ontario. Both are gates (or launch pads) to a new urban Archipelago of the Great Lakes.

Host/Curator:
Petros Babasikas
Talk
by
Nicolas de Monchaux
Professor of Architecture and Urban Design, Director of the Berkeley Center for New Media, UC Berkeley
Rebel Plans: Apple, Star Wars, and Architecture at Bay.

The San Francisco Bay Area, home to only seven million of the United States' 325 million inhabitants, is generally consigned to the footnotes of architectural history. But if one takes only a slightly broader definition of 'architecture' — one that acknowledges the many ways in which design and technology have profoundly transformed our landscapes and cities in the last few decades — a different view emerges. Central in this expanded field are two cultural monoliths at architecture's periphery — Apple Computer, as embodied in its enormous new headquarters, and George Lucas' imagined universe of Star Wars, embodied in the massive architecture of the Death Star. The two structures, it turns out, share an essential history not only with each other, but also the professional disciplines of architecture and city planning. Engaging this history and its prospects for design today, we can gain a new insight on the ethics, outcomes, and outlines of an emerging, technologically mediated interaction with space and city happening worldwide.
at
The John H. Daniels Faculty of Architecture, Landscape and Design

1 Spadina Crescent, Toronto
Room 200 (Mediatheque)
Fri, Nov 30/18 5pm- 6:30pm


Workshop

at The John H. Daniels Faculty of Architecture, Landscape and Design
1 Spadina Crescent, Toronto
Room 230

with: Petros Babasikas, Roberto Damiani, Nicholas de Monchaux, Justine Holzman, Heba Mostafa, Ala Roushan, Charles Stankievech, Mark Sterling.



Sun, Dec 2/18
1pm - 3pm


Walk


at Toronto's Port Lands

What are the –present and possible– public spaces of the Port Lands? How do these public spaces relate to the industrial landmarks and to the commons, networks and dynamic landscapes of water? How do plans and infrastructures of processing/optimization measure against these landscapes of indeterminacy and resilience? What are the local erasures and memory losses required for the growth of monuments? What is the history of landfill and is it possible for a new city to be built on it from scratch? Can film production generate a new urban architecture? Is drawing the first act of reconnaissance, a blueprint for breaking into the inaccessible buildings, for visualizing the invisible? What media document the scale of the terraform, the region, the infrastructure and the walk?

Jun 2019
More info soon
2/6

Water/Data
Modern cities are spaces of desire, projection and futurity. One way that cities express inclination and aspiration, to themselves and to the world, is through real, planned, projected and imagined infrastructure projects.

Toronto's R.C. Harris Water Treatment Plant, completed in 1941, is the city's palatial ode to shared, public provision — it is an over-specified, immoderately adorned expression of the potential of public works and the collective systems that constitute urban life. Sidewalk Toronto is Google subsidiary Alphabet Inc.'s proposed 12-acre development of "smart" infrastructure, urban innovation and improved, sustainable and connected living.

These two sites are productively disjunctive — revealing comparable if opposing motivations in the contemporary history of a city that feels as if it is always becoming, always reaching toward a future it missed somewhere along the way. R.C. Harris and Sidewalk are two infra-structurally connected undertakings only Toronto could produce and/or project, two sites that bookend visions of a modern city that, through technology, attempts to support, nurture and create the social, economic and ecological needs of its denizens.


Host/Curator:
Jamie Allen
Walkshop

Palaces of Infrastruture: From Water to Data

at the
R.C. Harris Water Treatment Plant
Sunday's proceedings will include walking, talking, guided tours and discussions at both the R.C. Harris Water Treatment Plant and the Sidewalk Labs / 307 Corporate Office.
Artists and designers
Jacinte Armstrong
,
Sage Sidley
and
Daniel Rotsztain
we be helping trace the experience of the Sunday walkshop, creating interventions and materialisations for further discussion and exhibition.
Walkshop Schedule
:
10:45am-12:00pm: R.C. Harris Water Treatment Plant
12:30pm: Lunch
2:00-3:00pm: Sidewalk Labs / 307
3:30-5:00pm: an open Discussion at Daniels Faculty of Architecture, Landscape & Design.
1 Spadina Cresecent, Toronto, Room 230.
with Beth Coleman, Shannon Mattern, Biance Wylie and Jamie Allen.
The Walks/ Site visits are a public event with limited attendance. The concluding discussion will be open to the public.
Sun, Mar 3/19
10:45am- 5pm
Talk

Monday Night Seminar at the McLuhan Centre
A Pedestrian View of Sidewalk Toronto
with
Beth Coleman
Associate Professor of Experimental Digital Media; Director, City as Platform Lab, University of Waterloo.

Shannon Mattern
Professor of Anthropology at the New School for Social Research and School of Media Studies.

Bianca Wylie
Open Government Advocate, Dgen Network; Senior Fellow Centre for International Governance Innovation.

at the
Mcluhan Centre
39 Queen's Park Cres E, Toronto
Mon, Mar 4/19
6pm - 8pm
3/6

Work/Inventory
"A look at a patch or field of 1960's small scale industrial buildings in west Toronto in which the uses they accommodate are undergoing a second or even third wave of reinvention."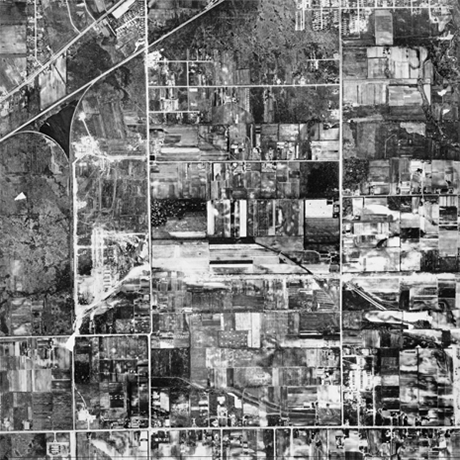 Work and workplaces are changing. Some of these changes are being studied in search of new policy, planning and design directions. Others are just happening.
Our discussions and walk will focus on an area where the latter is the case - an area of South Etobicoke roughly bounded by: Islington Avenue on the east; Jutland Avenue to the south; Kipling Avenue to the west; and the Canadian Pacific Galt Subdivision rail corridor to the north.
This area is an "employment area" in official terms – developed originally as an incremental conversion of agricultural lands starting in the in the mid 1950s – mostly small scaled single storey buildings on served by an arterial road system laid out along with the expressway network in the early 1960's.
At the area's north west corner is the "6 points" intersection- a complex intersection conceived at the time as a "fly over" or "cloverleaf" which is no undergoing a "reurbanization" to create an at grade intersection and a new "civic centre". Just to the west of this intersection in the western terminus of the TTC's Line 1 Bloor Danforth subway line. To the west are a collection of large scale industrial heavier industrial building sites that are in a process of conversion to new uses some for film studios. To the east and south the area abuts contemporaneous low scale residential neighbourhoods.
The area itself is evolving from its original light industrial and manufacturing uses to a more complex mix of automotive, food, office, making and working activities – more or less unexamined by official planning efforts – while for the most part maintaining the form of the first generation of building.
The area is characterized by the presence of a small scale, almost residential scale street grid with buildings set back from the streets with a mixture of parking and landscaping. Paved parking, loading and maneuvering spaces make up the majority of the non-street-facing surfaces of the area. Many of these flow together across individual property lines creating a more or less continuous asphalt field.
Our walk amongst the workplaces will be the first steps in an examination of the evolution of this area and an exploration of the rich potentials that such areas represent for the future of the City and for work.
Host/Curator:
Mark Sterling
Talk

by
Jesse LeCavalier
Associate Professor, the John H. Daniels Faculty of Architecture, Landscape and Design

and
Shawn Micallef
Writer, Toronto

A Walk Amongst the Workplaces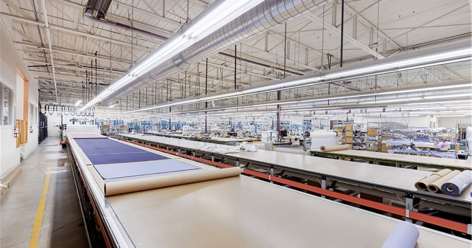 A conversation between Shawn Micallef and Jesse LeCavalier on life and change in employment areas – moderated by Mark Sterling.
at
The John H. Daniels Faculty of Architecture, Landscape, and Design

1 Spadina Crescent, Toronto
Room 200 (Mediatheque)
Fri, Mar 29/19
6:30pm - 8pm
Walk

in
Toronto's South Etobicoke.
A walk with Shawn and Jesse through an evolving employment area in South Etobicoke and a discussion on-site – moderated by Mark Sterling.
Itinerary
The Etobicoke visit will start at the South Lot entrance to Kipling Station on TTC Subway Line 2 at
10 AM
Saturday 30 March 2019. Please try to be there by
9:50 AM
so that we can organize the transport.
The visit will include walking and car/small bus transport between several locations in the light industrial area generally to the south and east of Kipling Station. There will be visits to at least two of the evolving uses which the existing industrial buildings in the area accommodate – a community centre and a cooperative work space.
At the end of the itinerary the group will assemble for a brief discussion of the visit and next steps for ongoing research on the area. Transport back to Kipling Station is included in the visit.
The
Route
for the visit can be found at:
https://www.google.com/maps/d/viewer?mid=15jJosdgsGGQgmYzWEuz_ts1D1WPT46SH&usp=sharing
Sat, Mar 30/19
10am - 2pm
4/6

Creek/Fort/Burial
Buried Toronto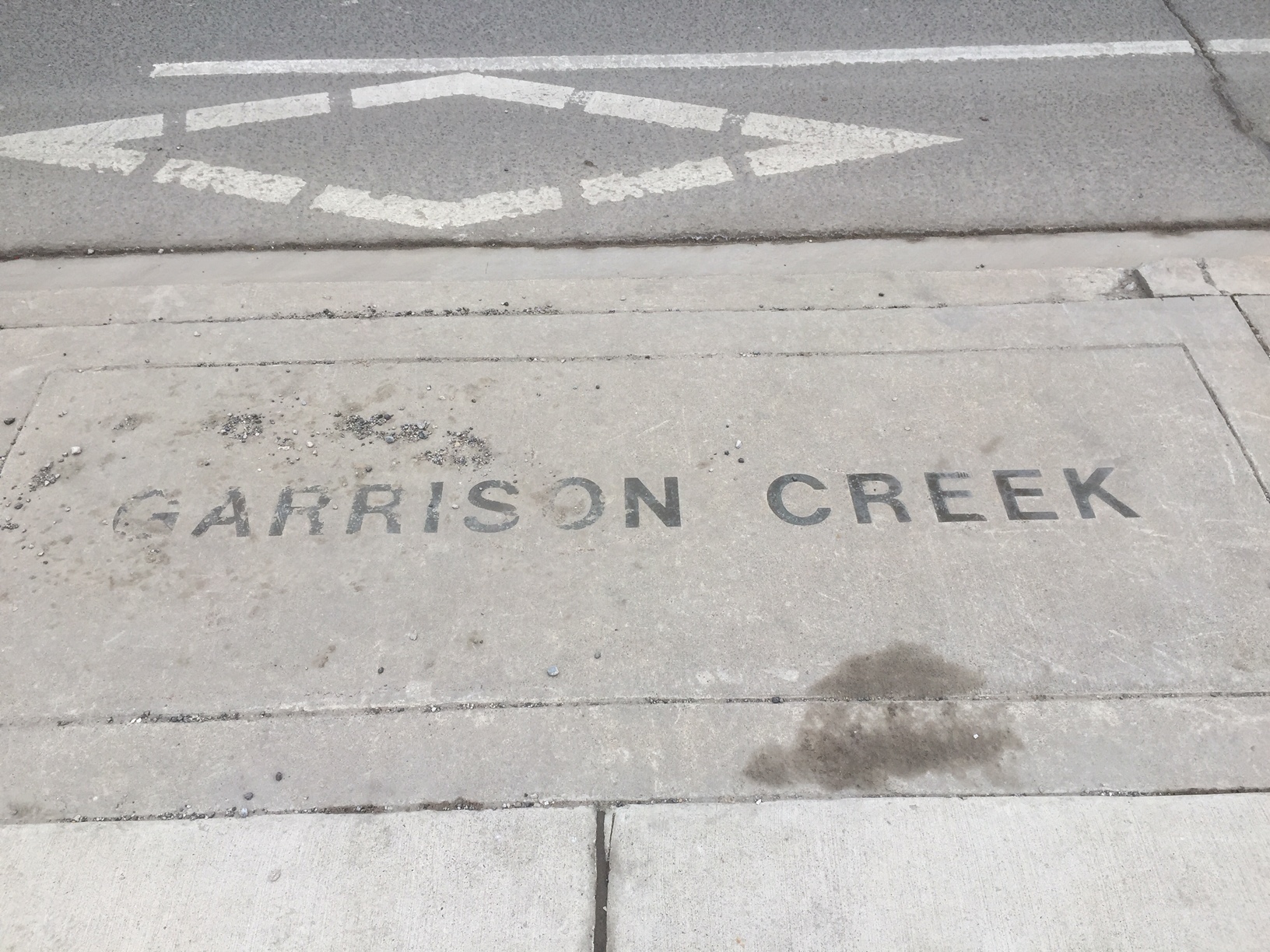 How do cities achieve closure through acts of burial and commemoration?
By reflecting on buried and submerged layers of urban Toronto we aim to better understand how cities remain tethered to what lies beneath. We will explore how memorialization both uncovers and unravels the layered city through a walk along the now buried Garrison Creek, its proximate commemorative burial grounds of 18th c. victims of outbreaks as well as sites of the infamous Fever Sheds where they were treated. Named after the Fort York garrison near which it flowed, Garrison Creek served first as a pristine water and food source but by the end of the eighteenth century its contamination led to its burial and conversion into a sewer. Implicated in its burial were the ravaging effects of cholera and typhus outbreaks on the city's inhabitants, exacerbated by poor infrastructure and the arrival of immigrants subjected to horrific and unhygienic transatlantic passage.
Our sites are intimately linked not only through their shared memorialization but their evocations of contagion and public health. By examining the memorialization of these burial modalities, the creek and the epidemic victims, we reconstitute a narrative for the cataclysmic impact of historical infrastructural failure. Nullified as a source of contagion by its burial, Garrison Creek is a reminder of how burial may act as a form of healing and restitution when burial is conceived as cleansing, hygienic and the only way for a city to move forward. Most of all, the burial of Garrison Creek and the victims of its contamination tells a nuanced history of a quintessential city of immigrants and stands as a testament to its inhabitants valiant response in the face of tragedy.
Host/Curator:
Heba Mostafa






Talk

by
Anita Bakshi
Instructor, Department of Landscape Architecture, Rutgers University.

The Hidden City: Daylighting the Past in Urban Space

It is the political imperative of art to confront difficult aspects of the past, in order to transform the aesthetics of the medium itself, and, more importantly, to transform thought. This assertion gets to the core of why commemorative and cultural heritage sites require the development of richer design practices. The abstract visual and design languages often used at monuments and memorials employ conservative aesthetic approaches which have conservative political implications. As such, they often do not enable confrontation or transformation. Rather, this is an art that is more suited to supporting and affirming existing thoughts and beliefs. In this talk, I argue that a new poetics of commemoration can be sought by working with non-visual aspects of design and with an understanding of cognition and perception. I explore different modes of engagement with memory and the varying forms they might take.
Formal design elements and materials often used at monuments and memorials - reflecting pools, waterfalls, manicured lawns, and formal tree plantings – are contrasted with other design strategies and processes. Smooth, shiny, reflective materials are fixed and unyielding, implying closure, finality, and the so-called "healing" of trauma. Instead, utilizing materials that invite touch and engagement, and that embrace visitors with smells and sounds and atmospheric enclosure, can enhance bodily engagement with memory. I explore how design strategies can enhance empathic engagement, and allow for 'seeing through' the body. Rather than statue removal and additive history, I argue for the development of hybrid design practices and strategies that support dynamic and flexible engagements with the past, using several examples to illuminate these possibilities.
at
The John H. Daniels Faculty of Architecture, Landscape, and Design

1 Spadina Crescent, Toronto
Room 200 (Mediatheque)
This Talk is open to the public. Please register for it
here

.
Fri, Apr 26/19
5pm - 6.30pm


Walk

at the Garrison Creek
hosted by Richard Longley

Itinerary

Start: NW corner Christie and Bloor West (Christie Pits, Christie TTC subway)

South from Christie Pits, across Bloor to Bickford Ravine, remains of Harbord Bridge to Art Eggleton Park, follow winding course of Garrison Creek around Montrose, Crawford streets to Camoes Square (Portuguese colonization and immigration on College St.

South to Trinity Bellwoods Park, across Queen St to Strachan Avenue, E to Stanley Park, S to Wellington West, W back to Strachan, S to Fort York and the Bentway.

East to Bathurst, S to Ireland Park, N to City Place, Victoria Square, King St W.

East along King to Toff Bell Kightbox at John St to see Irish Famine video and visit Fever Sheds site on the 4th flr.

End of walk.

Sat, Apr 27/19
11am - 2pm
Workshop

at
The John H. Daniels Faculty of Architecture, Landscape, and Design

1 Spadina Crescent, Toronto
Room 230
The Walk & Workshop are open to the public. Please register for them
here

.
Sat, Apr 27/19
3pm - 5pm

5/6

Islands/Bubbles
Man-made islands, sunken ballast, geodesic architecture, IMAX's birthplace, floating pods, dance parties, and hidden pathways all make up the unique environment of Ontario Place on the Toronto waterfront. Created by architect Eb Zeidler and landscape architect Michael Hough in 1971, no other megastructure in the city's history offers such an enduring public imaginary. At the brink of political euthanasia, 6place Toronto's research group looks at the ruined utopia, current revitalization and future possibilities of a unique urban space interfacing with the greatest freshwater system on the planet.
Host/Curator:
Charles Stankievech




Walk


at Ontario Place


TBD