4/6

Creek/Fort/Burial
Buried Toronto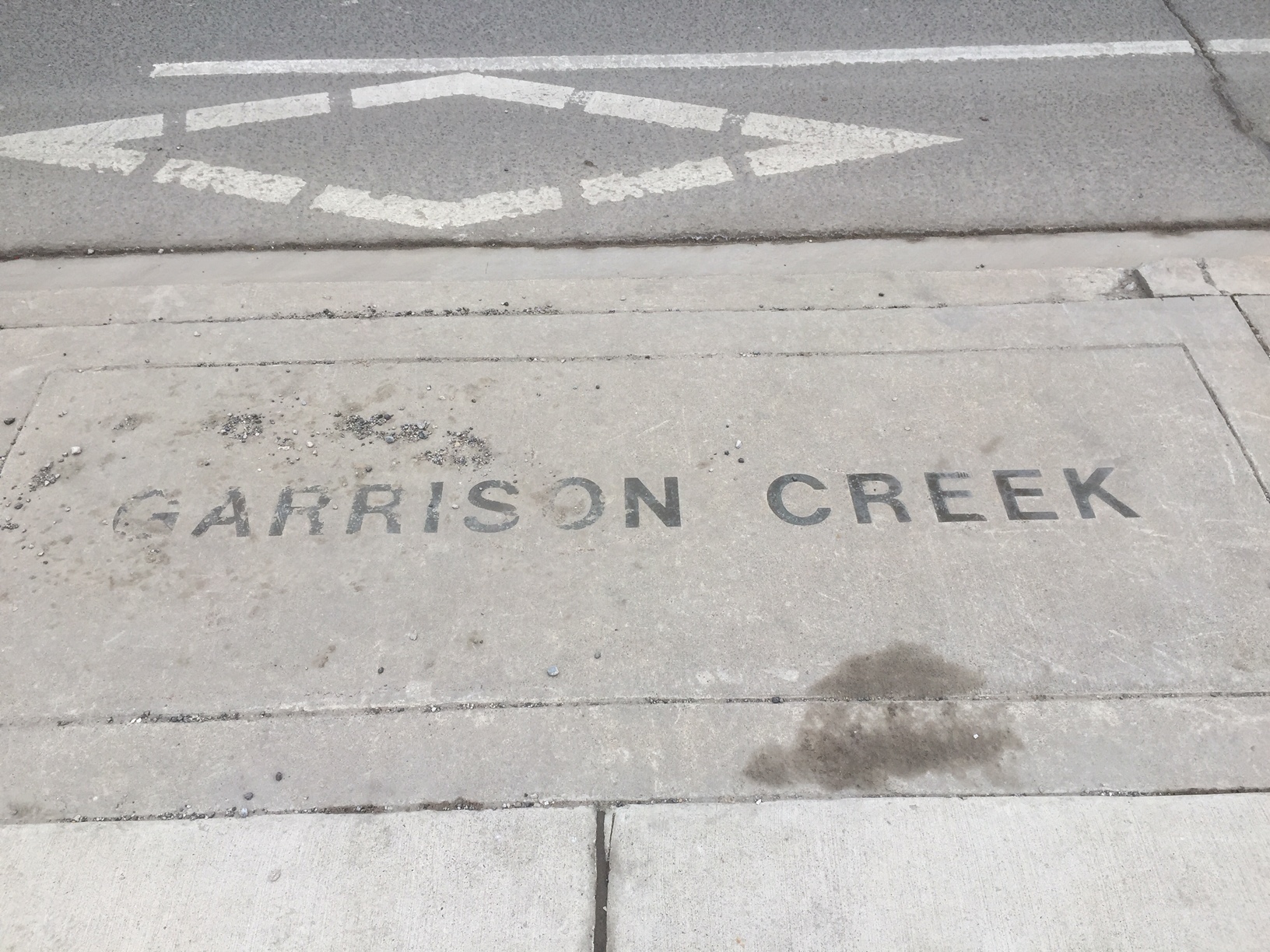 How do cities achieve closure through acts of burial and commemoration?
By reflecting on buried and submerged layers of urban Toronto we aim to better understand how cities remain tethered to what lies beneath. We will explore how memorialization both uncovers and unravels the layered city through a walk along the now buried Garrison Creek, its proximate commemorative burial grounds of 18th c. victims of outbreaks as well as sites of the infamous Fever Sheds where they were treated. Named after the Fort York garrison near which it flowed, Garrison Creek served first as a pristine water and food source but by the end of the eighteenth century its contamination led to its burial and conversion into a sewer. Implicated in its burial were the ravaging effects of cholera and typhus outbreaks on the city's inhabitants, exacerbated by poor infrastructure and the arrival of immigrants subjected to horrific and unhygienic transatlantic passage.
Our sites are intimately linked not only through their shared memorialization but their evocations of contagion and public health. By examining the memorialization of these burial modalities, the creek and the epidemic victims, we reconstitute a narrative for the cataclysmic impact of historical infrastructural failure. Nullified as a source of contagion by its burial, Garrison Creek is a reminder of how burial may act as a form of healing and restitution when burial is conceived as cleansing, hygienic and the only way for a city to move forward. Most of all, the burial of Garrison Creek and the victims of its contamination tells a nuanced history of a quintessential city of immigrants and stands as a testament to its inhabitants valiant response in the face of tragedy.
Host/Curator:
Heba Mostafa






Talk

by
Anita Bakshi
Instructor, Department of Landscape Architecture, Rutgers University.

The Hidden City: Daylighting the Past in Urban Space

It is the political imperative of art to confront difficult aspects of the past, in order to transform the aesthetics of the medium itself, and, more importantly, to transform thought. This assertion gets to the core of why commemorative and cultural heritage sites require the development of richer design practices. The abstract visual and design languages often used at monuments and memorials employ conservative aesthetic approaches which have conservative political implications. As such, they often do not enable confrontation or transformation. Rather, this is an art that is more suited to supporting and affirming existing thoughts and beliefs. In this talk, I argue that a new poetics of commemoration can be sought by working with non-visual aspects of design and with an understanding of cognition and perception. I explore different modes of engagement with memory and the varying forms they might take.
Formal design elements and materials often used at monuments and memorials - reflecting pools, waterfalls, manicured lawns, and formal tree plantings – are contrasted with other design strategies and processes. Smooth, shiny, reflective materials are fixed and unyielding, implying closure, finality, and the so-called "healing" of trauma. Instead, utilizing materials that invite touch and engagement, and that embrace visitors with smells and sounds and atmospheric enclosure, can enhance bodily engagement with memory. I explore how design strategies can enhance empathic engagement, and allow for 'seeing through' the body. Rather than statue removal and additive history, I argue for the development of hybrid design practices and strategies that support dynamic and flexible engagements with the past, using several examples to illuminate these possibilities.
at
The John H. Daniels Faculty of Architecture, Landscape, and Design

1 Spadina Crescent, Toronto
Room 200 (Mediatheque)
This Talk is open to the public. Please register for it
here

.
Fri, Apr 26/19
5pm - 6.30pm


Walk

at the Garrison Creek
hosted by Richard Longley

Itinerary

Start: NW corner Christie and Bloor West (Christie Pits, Christie TTC subway)

South from Christie Pits, across Bloor to Bickford Ravine, remains of Harbord Bridge to Art Eggleton Park, follow winding course of Garrison Creek around Montrose, Crawford streets to Camoes Square (Portuguese colonization and immigration on College St.

South to Trinity Bellwoods Park, across Queen St to Strachan Avenue, E to Stanley Park, S to Wellington West, W back to Strachan, S to Fort York and the Bentway.

East to Bathurst, S to Ireland Park, N to City Place, Victoria Square, King St W.

East along King to Toff Bell Kightbox at John St to see Irish Famine video and visit Fever Sheds site on the 4th flr.

End of walk.

Sat, Apr 27/19
11am - 2pm
Workshop

at
The John H. Daniels Faculty of Architecture, Landscape, and Design

1 Spadina Crescent, Toronto
Room 230
The Walk & Workshop are open to the public. Please register for them
here

.
Sat, Apr 27/19
3pm - 5pm